By: Jeannette Chong-Aruldoss
"The Church reached out and took the hand of the Empire instead of taking its chance with a leap of faith into the abyss, thereby becoming the servant of the dark side for the sake of its own survival."
The above quote from 'Refusing the hand of the Empire' triggered my thoughts to Singapore's Jubilee Day of Prayer (JDOP) held on 5 July 2015.
JDOP was Singapore's biggest national Christian church event in the last 50 years and saw an attendance of 51,000 at the Sports Hub.
The guest-of-honor for the occasion was Singapore's prime minister, Mr Lee Hsien Loong. Also in attendance were other politicians who would be seeking re-election at the upcoming General Election (GE), which subsequently took place just 3 months later (in Sept 2015).
The stated purpose of JDOP was "to commemorate SG50, Singapore's 50th year of independence."
It did not escape many Singaporeans that SG50 was an event fraught with political overtones. The ruling party's decision to call for GE in the year that SG50 was being extensively celebrated only affirmed the view held by some that SG50 was a pretext for the ruling party's political campaign.
Yet, the political overtones of SG50 did seem to escape notice of the JDOP organisers. They galvanised its faithful to attend JDOP in full force "to commemorate SG50" and also invited politicians as their VIPs.
And so, politicians aspiring to be re-elected were gifted with a platform to 51,000.
Whether intentionally or unintentionally, the JDOP served to showcase potential political candidates and to endorse the political party from which they hail.
In the words of the following write-up on JDOP:
"The highlight of the event for many was the arrival of Prime Minister of Singapore, Mr Lee Hsien Loong. The stadium erupted in deafening cheers of welcome and waving of Singapore flags when he and his wife, Ms Ho Ching, were announced….. After his speech, everyone rose to their feet and sang Aaronic Benediction (Misha Goetz) in English as a blessing upon the prime minister. This was followed by the recitation of the National Pledge."
On that day, religion and politics conflated. Worship of God, Love for our Nation and Esteem for our Political Leaders were interlocked into a meld which few Singaporeans would be able to tell one apart from the other.
From photos taken of JDOP, can you tell if the attendees were united in Godly worship, celebrating national pride or venerating our political leaders?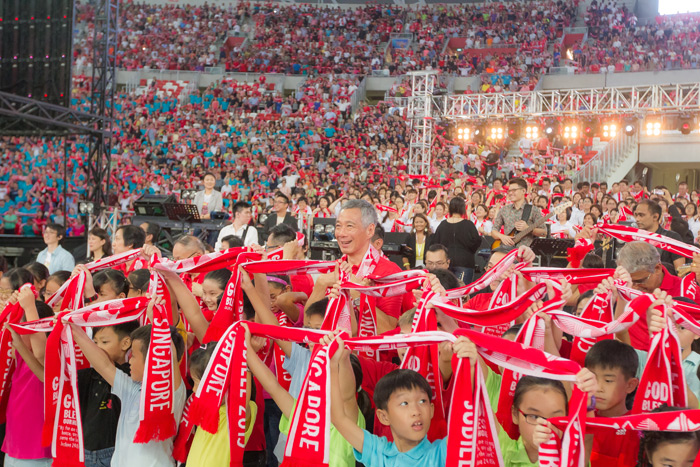 —
Republished with permission from Jeannette Chong-Aruldoss Facebook.
loading...